Are you searching for the best gaming controller to have a remarkable experience from PC games?
Targeting, aiming and attacking- these are all you like to do by squeezing your mouse button. However, low quality gaming mouse won't help you in performing better. Look for the best gaming mouse with smooth connectivity, accurate tracking ability and several customization options. Whether you try to click buttons or scroll the wheel, the right mouse never gives you discomfort. We have picked gaming mouse of different models, and our review will surely help you to make the right choice.
Best Gaming Mouse 2022
Item Name
Max. DPI
Sensor
Buttons
1. Logitech G502 Proteus Spectrum(Editor's Pick)
12,000
Optical(PMW 3366)
11
Check Price at Amazon
2. Razer Naga Hex V2
(Editor's Pick)
16,000
Laser
14
Check Price at Amazon
3. Logitech G900 Chaos Spectrum
12,000
Optical(PMW3366)
11
Check Price at Amazon
4. Razer DeathAdder Elite
16,000
Optical(PMW 3389)
7
Check Price at Amazon
5. SteelSeries Rival 700
16,000
Optical(PMW3360)
7
Check Price at Amazon
6. CORSAIR M65 Pro RGB
12,000
Optical(PMW336x)
8
Check Price at Amazon
7. SteelSeries Sensei 310
12,000
Optical(PMW 3360)
8
Check Price at Amazon
8. CORSAIR GLAIVE
16,000
Optical(PMW 3367)
6
Check Price at Amazon
9. Logitech G402
4,000
Optical(Avago AM010)
8
Check Price at Amazon
10. Corsair Sabre
10,000
Optical(Avago ADNS 3988)
8
Check Price at Amazon

Programmable Buttons: 11
Sensor: High-definition Optical
Max. DPI: 12,000 dpi
Connection: Full-speed USB Corded
Max. Acceleration: >40G
Max. Speed: >300 ips
Logitech G502 is one of the reliable gaming mouse models for those, who are looking for wired products. With the smartest design and highest performance level, this mouse is really a good choice. We think that it is an amazing model to those gamers, who prefer claw grip and palm grip.
With 1.57 in. x 2.95 in x 5.2 in. of measurement, Proteus Spectrum does not look much different from previous models. The weight of this mouse is 4.3 ounces, and it is more lightweight than other models, like Razer Mamba.
This Logitech gaming mouse is a very small sized mouse with low profile. There is a textured grip portion, and it is intended to prevent the system from getting slipped. However, you will not only get a good tactile feeling but also realize the stability while using the mouse.
While assessing the design, we have seen that everything is minimalistic about this product. As the best gaming mouse, it has the right and left button with a wheel to be scrolled. At the top, there are two buttons with DPI sensitivity. It is essential to alter the DPI to fire off the fastest shot while playing games. You will also find one nonprogrammable control, just below the wheel, which manages the friction.
In total, there are eleven programmable buttons, which are easily accessible. The front button is reachable to you with no effort, while the rear one may cause you little discomfort.
The curved design has made the product more ergonomic to the users. Most of the parts of this mouse are manufactured with plastic. We have not noticed any other distinguished feature in the look.
Surface tuning is another major feature that we find with Logitech software. This is a special program, which enables your mouse not only to assess the surface but also to configure its function optimally.
Now, the main thing that has differentiated this model is RGB lighting. This customizable system helps you in matching the environment with maximum 16.8 million of colors.
The optical sensor is highly accurate and responsive. The technology helps you in controlling the acceleration of mouse and enables you in targeting more reliably. The range of this sensor varies from 200 dpi to 12,000 dpi, and we have found this range in Logitech's another model, G303(Performance Edition).
The software program for Logitech G502 presents you with several options to tweak and customize the system in any way. You may store configurations on your mouse through the integrated memory. Though there are several options for customizations, you will surely find it easily adjustable. The software helps you in tuning sensor, programming the speed and managing the lights.
Pros
Comfortable and intuitive design
Streamlined and customizable software
Bigger buttons
Adjustable weight
Improved wheel
Cons
Mouse feet could be much better
Conclusion
Overall, it is one of the most functional models with good software and high-quality buttons.
2. Razer Naga Hex V2 – Best Gaming Mouse for MOBA Gamers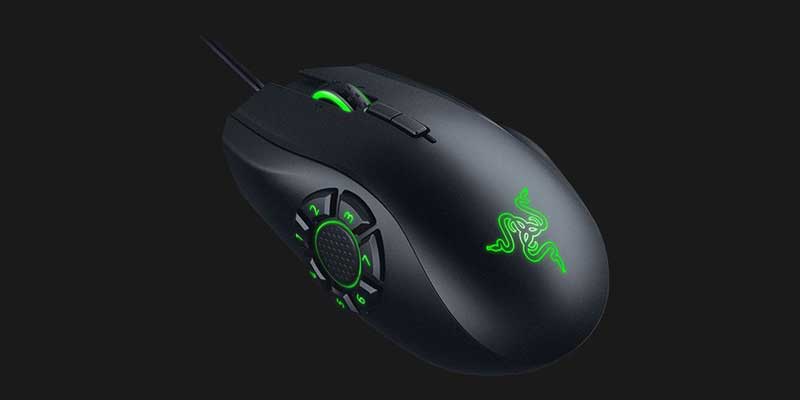 Programmable Buttons: 14
Sensor: Laser
Max. DPI: 16,000 dpi
Connection: Full-speed USB Corded
Max. Acceleration: up to 50G
Max. Speed: >210 ips
If you play MOBA games, Hex V2 is the best gaming mouse for you. Razer has introduced this model by combining the features of original Hex. This is a solid specialized mouse with several features and unique buttons. For its customizability and good button position, we have included it in the list of best gaming mouse.
Thus, the main thing that we like to review is buttons. There're diverse buttons- left and right controls and a scroll wheel that is easily clickable. You will also find buttons beneath this wheel, and they are intended to scroll vertically or to adjust DPI.
There is a 7 button mechanical thumb wheel, and these buttons are positioned in such a way that you have no chance of clicking on the wrong button. All these buttons are also programmable, and you can easily access them while playing intense action games. The overall structure is not highly different from that of the previous version. While you have no experience dealing with the older model, you may find V2 as highly comfortable model to you. At the middle part of thumb wheel, there is rubberized grip. Thus, as you will be able to hold the mouse firmly, you can make fast movements, while playing games.
Hex V2 is available with Synapse software, which is effective for reprogramming all the buttons and for adding more key maps. You may have over thirty diverse keys anytime.
Another unique feature that we get in Razer's product is Chroma backlighting. You can manage 16.8 million colors, and this coloration can be dispersed in 3 different zones of lighting on your mouse. Moreover, you may create any effect of lighting:
Spectrum lighting- Cycles all through the spectrum slowly
Reactive- Lit up with long, medium or short mode
Static- Lights up Chroma devices
Breathing- Shows color for every seven second
Naga Hex V2 model also includes 5G laser sensor (16,000 DPI) that is able to endure extreme speed of movement. However, we have seen that many gamers stick to 3,000 DPI.
Pros
Ergonomic design
MOBA-game centric model
Mouse sensor with high-DPI
Cons
The players must have synapse account
Conclusion
From the above review, we can say that Hex V2 works as the best gaming mouse. It has passed most of the tests on performance and functionality.

Programmable Buttons: 11
Sensor: High-definition Optical(PMW3366)
Max. DPI: 12,000 dpi
Connection: Full-speed USB Corded
Max. Acceleration: up to 40G
Max. Speed: >300 ips
Nowadays, most of the modern gamers look for wireless gaming mouse. Logitech G900 is the one of the best choices to them, and it works with high performance with no wire. This is a gorgeous engineering piece with bold and big design. As the model is designed with wireless technology, the overall structure is very slick.
We have chosen it for its super-light design. With hollowed scroll wheel, tough edges and curved model, this is the best gaming mouse for all types of players. Whether you play the game with your right or left hand, you will get comfort in using this mouse. Moreover, both claw and palm grip players may choose this model.
The mouse offers you a chance of swapping out its thumb buttons. The passionate gamers will be able to click on buttons, present on two sides. In addition to these thumb buttons, you can find left and right controls and separate programmable buttons to adjust DPI sensitivity. All these buttons are positioned at the right place.
At the top section, there is a scroll wheel, covered with textured rubber. The switch, behind it, helps in unlocking the bearing of your wheel. Its free spinning capacity makes your task much easier.
Although Logitech G900 is known for its wireless technology, you may also use it as a wired device. Use a cord of 6 feet long, and attach it to your computer. However, you need to charge your mouse using the cord, and it two hours to get full charged. The battery life varies from 24 to 32 hours. The brand has claimed that you can charge this battery more than eight hundred times, and then, you may need to look for a new one. Logitech Software also helps you in measuring the present battery life.
While you have plugged in your mouse, LGS starts scanning all the games, present in the system. It also creates profiles automatically. It will be easier for you to program your mouse buttons and manage the RGB lighting. You may synchronize it with headsets and keyboards of Logitech. Adjust DPI in any way, and it can get tuned to the surface of mouse pad. As the gaming mouse has its own memory, you may easily use it on any computer. Each of the strokes, made with this gaming mouse, is very precise.
Pros
High-class performance
Best performance of sensor
Awesome look
Lightweight model
Conclusion
Thus, whether you are playing multiplayer game or the first-person shooting game, this would be the best gaming mouse to you for that price.

Programmable Buttons: 7
Sensor: High-definition Optical
Max. DPI: 16,000 dpi
Connection: Full-speed USB Corded
Max. Acceleration: up to 50G
Max. Speed: >450 ips
As one of the best gaming mouse models, Razer DeathAdder has presented you with lots of improved features. Though the brand has updated its product, we have not found any considerable modification in the design. This gaming mouse has become popular due to its ergonomic and comfortable design. The length of this Elite model is about five inches, and it fits rightly to a player's hand. It has replaced DeathAdder Chroma by adding more buttons and better seonsor DPI.
The classic body includes big thumb buttons, while the side portion is little slanted. The rubber pads are textured, and it offers you safe grip. Other parts are made of high-quality plastic with a good matte finish.
Razer has tried to offer the best standard mechanical buttons that give instant response. You can comfortably rest your fingers on the right and left clicks. The buttons can retain their durability to maximum fifty million clicks. On the side portion, there are two buttons that make your clicks audible. These buttons are present just above a textured part, which is adjacent to the base. The manufacturer has redesigned the wheel to give better tactile sensation. All 7 buttons are easily programmable.
5G Optical Sensor, integrated with this mouse, has a good range of DPI (maximum 16,000). The resolution accuracy is 99.4%, and the speed of tracking is 450 IPS.
The cable length is seven feet, and there is USB connector at its ends. Moreover, RGB lighting looks good, and the light is emitted from the logo and wheel. You may alter it to 16 million of colors.
Synapse software works with Razer mouse, and there is no need of installing this tool prior to using your mouse. You will be able to develop profiles, map various button actions and adjust the sensibility of the mouse. You may also calibrate your gaming mouse to make it functional for various surfaces. This Elite model is designed to store all the settings on Cloud platform, and you can have an access to them at any time. However, good internet connectivity is always essential to do it.
In addition to it, you should create your Synapse account for configuration purpose. The developer updates its software, and you have to reboot the system after every update.
Pros
Good grip
Versatile in performance
Functional software
Amazing illumination capacity
Cons
Not different from the older version
In conclusion, we have to say that DeathAdder Elite has become a very potential competitor to other similar models, available at a higher price. You can grasp it easily and make better performance while playing the games with this Razer best budget gaming mouse.

Programmable Buttons: 7
Sensor: High-definition Optical
Max. DPI: 16,000 dpi
Connection: Full-speed USB Corded
Max. Acceleration: up to 50G
Max. Speed: >300 ips
RGB: 16.8 million customizable color options.
Designed specifically for right-handed players, SteelSeries Rival 700 has become a favorite gaming mouse to lots of users. Its good shape will rest on your hands rightly. The Rival 700 is very medium size and its weight gets allotted to the front portion of your gaming mouse.
At the front side of this SteelSeries gaming mouse, there is a plastic cover on which you can find RGB logo. You may replace the shell to get a new one.
In addition to it, the mouse includes reinforced buttons for right and left clicks. Its scroll wheel also works very smoothly, and there is an integrated DPI button. The wheel gets illuminated while the RGB light becomes activated.
The rubber grips of this mouse help you to control everything in any situation. Moreover, the left side of this model is outfitted with OLED display and 3 thumb buttons. However, the quality of this display is not much high.
After plugging the gaming mouse to your computer, you have to install the software, SteelSeries Engine 3. You will be able to make customization of lighting and create the profiles for launching games. For the novices, the software presents you with 3 major interfaces. They are intended for editing preset profiles, displaying the game profiles and customizing the PC-connected devices.
However, one of the demerits of Rival 700 model is that you will have limited number of game titles, supporting vibration mechanism and OLED display. At present, there are three major games-However, one of the demerits of Rival 700 model is that you will have limited number of game titles, supporting vibration mechanism and OLED display. At present, there are three major games:
Minecraft
Counter-Strike: GO
Dota 2
Many of the games cannot use vibration system and the screen comprehensively. You will be able to set customized images as well as manage the timer vibration.
While you question on the performance, we have to talk about the DPI. We have tested that with a movement of 4 in to one direction, the DPI tracked is 1200. With 1100 and 32 IPS, the mouse can please you with a standard performance.
Pros
Glides smoothly
Good gaming experience
Highly modifiable
Easy to grip
Cons
No option for adjusting weight
From the overall review, we have to conclude that Rival 700 is a good shaped mouse, designed for all gamers. While you like to play games for long hours, you will never feel discomfort in holding the mouse. The unique features have made it different from other models. Although it is one of the costly models of all the wired gaming mice, it gives you the right value.

Programmable Buttons: 8
Sensor: High-definition Optical
Max. DPI: 12,000 dpi
Connection: Full-speed USB Corded
Max. Acceleration: up to 50G
Max. Speed: >250 ips
RGB: 3 RGB Zones
Corsair is one of the known brands, offering headsets and various other products. However, we have reviewed the best gaming mouse of this brand. This high-end device is intended for the FPS gamers, who prefer palm grip.
M65 Pro is manufactured with aluminum frame to provide you with a first-class product. This rigid model also offers you weight adjustment options, and you may minimize it to 115gm.
The surface part remains covered with plastic layer, while the top portion is made of a material that is soft to touch. Its sides are textured to offer you a better grip. However, while playing games for several hours, the surface may accumulate moisture of your fingers.
At the upper part, you can find the brand logo, illuminated with RGB backlit. There is also scroll wheel with two separate buttons for the adjustment of DPI. DPI light acts as the indicator of the present DPI status. Due to the RGB lights, your mouse may appear as the centerpiece on your desk. You may choose static vivid lights or the animated lighting effects. You can customize the lighting using CUE software that is downloadable at free of cost.
In the original version of M65, you can get laser sensor. However, the new M65 Pro presents you with optical sensor, with the maximum DPI rate of 12,000. You have the option of setting 5 DPI ranges. While you are modifying this setting, you can see that the light is altering its colors. It enables you to realize that you've chosen the handy setting.
Now, we have to speak about the gamers' experience at the time of gaming. It is really good to invest on this mouse, while you love playing fast-paced computer games. Sniper button helps you with high precision level. Whether you are playing Battlefield 1 or any other combat games, you can take the best action with this best gaming mouse. Moreover, adjustable polling rate (default- 1,000Hz) is another feature of the gaming mouse. However, one of the negative features is that this device is slightly bigger in size.
Pros
Optical sensor with high precision
Ergonomic design
System for tuning weight
Cons
Software  Not easily navigable
For most FPS gamers, this M65 Pro is definitely a good choice and it will serve you well.

Programmable Buttons: 8
Sensor: High-definition Optical
Max. DPI: 12,000 dpi
Connection: Full-speed USB Corded
Max. Acceleration: up to 50G
Max. Speed: >350 ips
RGB: 2 RGB Zones, Independently Controlled
As one of the best models in Sensei series, this gaming mouse is good for button position, weight, shape and several other features. This product has much similarity to another model, Rival 310. However, you can find few modifications in design in order to fascinate the users.
With ambidextrous and sleek profit, Sensei 310 is a classic mouse to all the players. There are two thumb button sets with RGB lights. You will feel highly comfortable while gripping the mouse.
While you have seen the old Sensei model, you may easily make out the look of the new one. Just like the previous versions, it has DPI(12,000 dpi max.) adjustment system and clickable wheel at the middle part.
The mouse is integrated with 8 programmable buttons, and in most cases, you may need to use 6 of those buttons. The compact thumb buttons can be differentiated very easily, and most of the players like to deactivate these buttons. The silicone-based grip gives the best comfort to your fingers. As the wheel is contoured, your fingers will not get slipped.
We have found that about 10 % of people prefer working with their left hand. Thus, the mouse, intended only for these people, will not get much attention from several customers. However, this mouse has neutral design, and you can gift it to any computer gaming enthusiast, whether he is left or right handed.
Sensei 310 gaming mouse model works with the software, SteelSeries Engine 3. With the use of this Engine, the players will be able to reprogram their buttons and set up profiles for separate games. RGB light is also controllable with this software. The use of software is optional to you. However, you may download this software as it does not cover much space of your computer.
You will find the limitations while dealing with DPI. There're two settings, available for players, while in other models, we have found five settings. It is also true that in most of the situations, you don't need to have 5 settings to play the game.
For every game genre, this mouse is the best choice. While playing Overwatch or any other games, the mouse gives respond to your very fast. You may also turn down DPI for more precise aim. The gamers, who like the single-player games, can rely on this Sensei model.
Pros
Performance and design: Both are good
Right pricing rate
Adjustable weight
Thus, as the best gaming mouse, Sensei 310 is attractive, impressive and affordable.
8. CORSAIR GLAIVE – Reliable Corsair Gaming Mouse for MOBA and FPS Games

Programmable Buttons: 6
Sensor: High-definition Optical
Max. DPI: 16,000 dpi
Connection: Full-speed USB Corded
RGB: 3 RGB Zones
Corsair Glaive is one of the appealing gaming mice in the market. This is really a versatile device, enabling you to replace different parts very easily. From the various customers' comments and reviews, we can say that its performance level of very high.
The size of Glaive is bigger than most of the other mice. It is slightly narrower and longer structure. Its design presents you with a matte finish and a logo at the front part. The main part is made of plastic. However, the bar at the top is designed with aluminum.
At the central portion of the mouse, you will see 5 LED indication lights, which reveal the present condition of DPI. In addition to it, the model includes a DPI adjustment button and scroll wheel. However, this wheel is not illuminated. Omron buttons for the right and left clicks are also of high quality. One demerit is that these buttons are not replaceable.
The right-hand side of the gaming mouse has a touch of rubber, while the left-and side is the main part, which has made the product unique. There is no sniper button that we have found in M65 Pro. The base part includes optical sensor (16,000 DPI) with 5 pads that enable you to glide the mouse over the surface. The braided wire is 1.8m in length, and it fitted to your mouse. You cannot remove it anytime. The best fact is that the thumb grips are interchangeable, and you may choose any style of grip for customization.
The mouse works with CUE 2 software with the help of which you can adjust 6 buttons and the wheel, attached to DPI button. By using this software, you have a chance of calibrating DPI range and sensor. The mouse also works smoothly on all types of surface. One of the most notable things is that Corsair has teamed up with Pixart for creating this special sensor. This is a tunable sensor, offered you an optimized tracking capacity.
Pros
Responsive
Good tracking capacity
RGB light increases aesthetics
High-quality software
Cons
Very limited option for customization
Thus, Corsair Glaive is one of the reliable and solid MOBA and FPS gaming mice. With an updated sensor and superior ergonomics, this product has pleased lots of gamers.
9. Logitech G402 – Best Gaming Mouse under 50

Programmable Buttons: 8
Sensor: High-definition Optical
Max. DPI: 4,000 dpi
Connection: Full-speed USB Corded
Max. Acceleration: up to 16G
Max. Speed: >500 ips
Logitech has already achieved a good position in the market of gaming tools, and this brand is continuously trying to release the latest products for the consumers. As one of the regular gamers, you may try out Logitech's product.
The design of Logitech G402 includes a combination of glossy and matte black plastic, with shinning blue colored logo- G. The overall look is much coherent. The cable is made of simple rubber and is much long in size. Its matte finish gives you a good feeling to your fingers and hands. However, it's your own choice whether you have to consider the mouse as the ergonomically designed model.
The top portion is elongated and slightly curved, and you can hold it with your hand in a more relaxed way. Thumb grip also prevents your thumb from getting slipped. The sides are rubberized and scalloped, offering you firmer grip.
Now, while assessing the buttons, we have seen that they are much responsive and placed at a good position. The forward and back buttons are above thumb button, and they are very close to each other.
Similarly, 2 other buttons, placed towards left-hand side of Left-Click control, are intended for altering DPI range. They are also easily reachable to the users. In most cases, we usually need only 2 settings for DPI- Slow and fast. However, the buttons of G402 are really convenient, and they enable us to switch to 4 different settings. G402 model is designed to increase the DPI to 4000. The mouse also integrates a sniper button to reduce DPI easily. There are total eight programmable buttons.
To talk about other features, we have to say that its sensor speed is 500ips. Developed with Fusion Engine technologies, this device is one of the fastest working gaming mice. In addition to it, there is 32-bit ARM processor.
For the optimum usage, you have to rely on the Gaming Software of this Logitech gaming mouse. With this software system, you may be able to alter the buttons' functions and tweak the DPI, polling rate and logo lighting. There is a tool to test out the speed of the mouse movement.
Pros
Low friction feet
Lightweight materials
Durable buttons
Simple switching of DPI
Good button position
As a best gaming mouse under 50, the Logitech G402 has an excellent value for money.
10. Corsair Sabre – Best Cheap Corsair Gaming Mouse

Programmable Buttons: 8
Sensor: High-definition Optical
Max. DPI: 10,000 dpi
Connection: Full-speed USB Corded
RGB: 4 RGB Zones 16.8 Million Color Backlighting
If you look at the series of Corsair's products, you will see that Sabre has been added as the latest one. This Corsair gaming mouse is mainly intended for right-handed players. The weight of Sabre Optical mouse is only 100 gm. Though it is not adjustable, you will have no issue with this lightweight product. The brand has claimed that every component of this device was tested to reduce weight with no effect on performance. Scroll wheel is added at the front portion to have a control over weight. Though the model is made of plastic, you will still get a robust mouse.
It is really pleasant and soft to touch the plastic portion. However, you can find no rubberized sides. Although it's a low-friction device, the overall coating is not much slippery. The specially designed base glides against the surface very smoothly. The USB cable, with braided design, is 1.8m long.
Corsair has said that the mouse model works best for all the gripping styles. However, we have found that fingertip and claw grippers get the utmost comfort.
Now, we can speak about DPI settings, which can be maximum 10,000. Its optical sensor works well, and the smart tracking capacity is highly accurate. You may also create your custom color palette for DPI indication.
Customization is the major aspect, where this Sabre Optical model has become most distinguished, and this mouse works with CUE software. This is a comprehensive software system, where you can find timers, shortcuts and macros. You will also be able to set up various profiles with more than one mode in these profiles. The level of brightness for every zone is customizable with the software. The best thing that you can do is to turn on automatic cycling of color.
You have four zones of RGB lighting, and they are to be controlled separately:
Logo
Front light
DPI light
Scroll wheel
DPI light indicates the level of DPI levels. You may choose any type of RGB color for rest of the three zones.

Pros
Lightweight
Smooth performance
Programmable switches
Several color options
Cons
Oil stain on rubberized coating
Overall, this Corsair gaming mouse offers you a highly customizable and lightweight model. You may invest on it to test out its features.
Buying Guide for Gaming Mouse Users
We have realized that it is not easy to choose the right mouse for gaming purpose. However, every buyer must consider important factors at the time of buying this mouse.
Genre of Games that You Play
While you have started choosing a best gaming mouse, the most important task is to know the game style that you like. For instance, you may like to play MOBA, MMO, FPS or RTS. When you play MOBA or MMO games most of the times, you can pick a mouse with several programmable buttons. The DPI range must also be high to fit your gaming style. However, the maximum number of buttons must not be over ten.
Too must weighty mouse may also affect the performance of FPS players. Many brands offer mouse with flexible weight, and you can play any type of game with it.
Optical Sensor or Laser Sensor? Which is better for you?
One of the major parts of your gaming mouse is the sensor. Most of the gamers cannot make out whether they have to choose a mouse with laser sensor or an optical one. We have presented you with the features of both these sensors.
Laser mouse is high adaptive and functional to various surfaces. However, while there is optical sensor, you have to know the surface, where you like to place the mouse. Though you may solve the issue by buying a mouse pad, you must know the details of sensor. There is high accuracy in the laser mouse, and you may not find this feature in the optical version. However, one demerit of this mouse is that it is highly dust sensitive.
Most of the gaming tools manufacturers use laser sensors for their ability to work on any surface. While the players lift off their mouse, laser sensor continues interpreting surface. It does so until the distance from device to the mat is within 1 centimeter. We have seen that lots of players like to use optical mouse.
Nowadays, the issue on mouse lift-off is solved with special infrared sensor. Many manufacturers offer a feature of customizing the distance for mouse lift-off. You may do it by running the software. There is also dual mouse sensor, which has higher range of DPI.
DPI Range and Polling Rate
You have to know these terms to get more enjoyment from gaming. Polling rate indicates the number of times your gaming mouse has reported its present position. You will find the measurement of this rate in Hertz. The factor is also important for measuring the performance of the mouse.
While you are Windows Operating System, 125Hz is the normal polling rate. Thus, your PC gets an update of the pointer's position. While this rate is faster, there will be higher accuracy in resolving the cursor on your screen.
The sensitivity of the mouse is revealed in CPI and DPI. With higher DPI, there is faster movement of mouse on screen. However, this higher rate also means that there will be lower distance of moving the gaming mouse. While you like to reduce your effort, you may better invest on a mouse, having higher DPI.
Is It Better to Have a Higher DPI?
DPI is, however, not a very important factor, and it depends mainly on your gaming genre. For FPS players, precision is the vital element. The best gaming mouse helps you in increasing DP range to 5000 or more. You may also find mouse with 12,000 DPI. Know your own gaming technique, and modify DPI.
On What Surface Do You Place the Gaming Mouse?
Both optical and laser mouse models are good for gamers, only when you have positioned them on the right surface. For the mouse, with laser sensors, tough surface is best. While you have chosen this mouse, it is better to check out the mat finish. The function of this mouse will get affected, if placed on a piece of cloth.
Thus, you have to choose the mat, after knowing your own gaming style.
Various Types of Mouse Gripping Techniques
You may know about three major styles of gripping mouse:
Most of the mice are designed for all gripping techniques. Palm grippers look for the big sized mouse, and they like to have lower DPI range. However, for those, who deal with claw gripping mode, small sized mouse is best. To have more comfort at the time of gaming, you can buy a mouse, having refined shape. You will surely get pleasure while playing with your mouse for several hours.
We have found that FPS players like to use the first two gripping technique. For claw grippers, palm base works as pivot. Their palm does not have any contact with gaming mouse.
Connectivity options
One of the major things of gaming tools is the connectivity. SteelSeries, Logitech and Razer, offer unique software interface, and thus, you will be able to have better experience from gaming. By syncing up the gaming mouse, headset, app and keyboard, you can do various things. The synced systems are designed to share different combinations of colors. It will be easy to run more than one peripheral with a software system.
However, while speaking about the connectivity, we have to present the details of corded and cordless mouse.
Wireless systems have undergone the fastest development in the present years. For the mess-free design, these wireless models are the right options. However, still, there are many conservative players, who like to rely on the wired models.
Most of the professional players have the concerns on battery life and weight of batteries. It is annoying while you get a notification of lower battery charge at the time of gaming. However, lots of manufacturers are trying to make an improvement of their battery life.
The modern batteries are able to run consistently for minimum five hours of gaming session. The good news is that the reputed brands have offered special gaming mice, which work in both modes- wireless and wired. The USB is detachable, and you will get the ultimate comfort.
Ambidextrous Mouse- Is it Good For You?
While you are left-handed mouse, you will get a very limited number of models. There are many manufacturers, who do not like to release mouse, only for the left-handed gamers. Though you can find mice for your left-handed technique, they may not have all the refined features. For instance, the DPI range can be lower. FPS players will not get several button options. For all left-handed players, Razer DeathAdder Essential can be a good choice.
Most of the gaming mouse models are designed only for the right-handed gamers. You will also get ambidextrous models, which enable you to switch your hands.
Durability
This is another major factor to buyers while purchasing any hardware part. You have to check out the materials, applied in the gaming mouse. The enthusiastic gamers, who play with their mouse every day, should pick the most durable models. The best gaming mouse is able to endure deterioration.
Options for Customization
The higher standard gaming mouse always has lots of options of customization. Its programmable control helps you in assigning particular roles to every button. Thus, adjustment of DPI also turns out to be easier to you with simple clicks on your button.
There are also mice, integrated with onboard memory. You can save all the settings on Cloud platform. The major advantage is that the mouse can be connected to a PC, and you can avail all the settings. While you are using other's computer system, you can download software program and have access to the settings.
Thus, look at all the details of your gaming mouse and make the best purchase. Read the review of all the models that we have chosen for you. It will help you to find out the most reliable one.