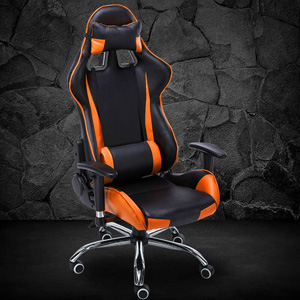 You've probably spent time and money buying the right gaming keyboard, and the gaming mouse for your PC, and maybe you even have other accessories that you hope will give you your head start (not to mention the gaming PC itself). But only a few people think much about their chair.
Why we need a good gaming chair?
The role of a high-quality PC Gaming Chair cannot be emphasized enough. Computer gaming chairs are extremely important because we are hours sitting on them. Without a gaming chair that we can trust, we risk back injury, lack of performance and a whole range of underlying problems. Our body is programmed to be agile. Sitting is not a productive position, the body does not respond well to long hours of inaction. If you are chained to your computer chair by your profession or passion, hanging over and staring in your super-bright HD screen never feels right. This has promoted research and development of "healthier" chairs, you will want to keep your back in top condition as you play.
A best gaming chair is designed to keep you healthy in the long term. You sit comfortably and can maintain a good posture which in turn leads to improved well-being and leads to more focus and motivation while playing your games. If you are a game enthusiast, you need a best chair for gaming. The problem, however, is that there are some brands of game seats on offer and that each chair has unique features and specifications that a gamer should consider before making the important decision to buy one.
Best Gaming Chair of 2022 – Top 10 Picks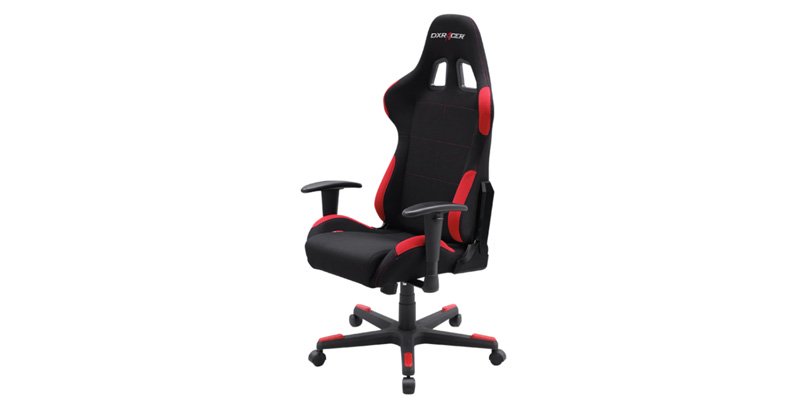 The DXRacer Formula Series Gaming Chair is a sturdy-looking chair that is available in many styles and color variations. This chair is perfect if you are looking for something that looks sportier. The seats can be purchased with vinyl, fabric or patented seat upholstery for race car seats, which is a luxurious, breathable option. These chairs are big in the eSports world, especially in Europe. That is no surprise – DXRacer makes some stylish chairs, while ergonomic design remains in mind.
All their chairs have a high straight back, most have detachable, adjustable lumbar and neck cushions. For those with back problems, lower back pain when sitting, this DXRacer PC Gaming Chair has lumbar support, which will relieve your back pain and make you more comfortable. The seats have a flexible backrest with an adjustment of up to 180 degrees, fully adjustable armrests, tilting mechanism and gas spring with adjustable height. These are solid chairs with a weight of about 70 lbs. An additional advantage: you feel as if you are sitting on the seat of a powerful race car. If these chairs do not start your motor, we do not know what it will do.
DXRacer seats are manufactured under strict standards to provide users with optimal of luxury and comfort. Although this chair was originally designed to enhance the gaming experience, this is definitely your favorite chair for working and relaxing. Unlike most office seats available, the DXRacer seat has a higher backrest to help your spine, from the pelvis to the neck completely. The seat offers a steady metal five-point base with a gas spring, enabling the user to modify for several heights to better address the needs of your office or PC work area.
Pros
Fantastic design, the material looks and feels high quality
Many unique size and style options, armrests and backrests match gamers of all sizes
Awesome lying function
Cons
Very heavy
Can feel somewhat stiff until it is indented
Some models are not ideal for longer gamers
Editor's words
The Formula series chair is suitable for PC gaming, as well as console gaming. The chair has high-density cold foam filling. This makes the chair ideal for long-term use. Most PC gamers are online for hours on end, this chair provides comfort and stability. The ergonomic design given to the chair makes it perfect for neck and back support.
If you have ever encountered problems with the support and comfort of other gaming seats, this product may be a possible solution. The GTracing is equipped with lumbar cushions and cushions of the headrest and offers a weight of 330 kilos, which is slightly more than what other products offer.
Regarding appearance, we can say that this gaming chair is attractive and detailed, with five bold colors that players can choose from. Made of synthetic leather, the GTracing impresses with its smooth lines and easy maintenance.
Ergonomic design
The GTracing gaming chair has been designed to be more efficient and comfortable, it also comes in multiple body shapes.
To avoid constant stress, you should have right an ergonomic posture, which is advisable, especially when you are sitting on the chair for a long time.
The adjustability of the chair ensures that every type of user with different heights can adjust the chair to its unstressed posture.
With independent back angle option. A height-adjustable backrest to help you adjust your sitting posture during your work experience (even if you can sleep up to 170 degrees, you can even sleep comfortably.
Material
Metal structure, the synthetic leather is simple to clean. Also, the detachable lumbar and main cushion makes it an excellent chair for working, gaming and studying.
Function
The chair is rocked back and forth.
Adjustable backrest with a safety angle of 90° -170 °.
Armrest and height adjustment of the seat.
360 degrees rotatable.
The 5-point base is built with heavy and flexible wheels.
Rock and Lock
When it comes to raising and lowering the height of the seat, the lever controls the seat's tilt, from rocking to and fro to a non-rocking position. The angle button underneath the chair makes it softer or tougher to move within the chair, this is dependent on how you tilt the knob.
Support system
Adjustable neck rest and lumbar support, soft neck cushion and lumbar support pad designed for extra padding comfort and protecting your neck and backbone when you sit for a long time. The metal frame permits the chair to be firm enough to stand up to 330 lbs.
Pros
Ergonomically designed racing chair
Available in 5 bright colours (blue, red/black, black/red, black/blue, black/white)
Equipped with extra neck and lumbar support cushions for optimum comfort
Adjustable backrest with a safety angle of 90° – 170°
Cons
Customers expressed their concern about sustainability
Lumbar pillow smoothed easily
Editor's words
This extremely ergonomic gaming chair is suitable for all kinds of body shapes and is known for its comfort. The chair has a metal frame and is easy to clean thanks to the artificial yet realistic looking leather. It is also supplied complete with a removable cushion for the headrest and a lumbar cushion. Whether you need the chair to play games, work, study or all three, this most comfortable gaming chair should not be disappoint.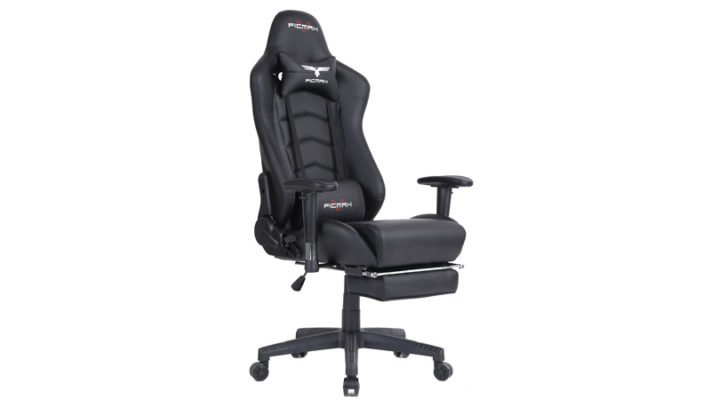 From Ficmax this is an improved version of their previous seats, but with many more features. This is Ficmax Ergonomic Huge and Tall Racing Style PU leather gaming chair that comes with lumbar massage support and a retractable foot base. This is a versatile all-in-one chair, whether you work, read, gamble or try to rest.
It is not common for people to use these chairs as their beds, but some do. It comes with a streamlined blue and black design and a comfortable footrest that is easy to slide out and helps promote healthy blood flow to reduce the risk of blood clots in the legs.
This chair also includes a USB-charged electrical stimulator on the inside, so that it also serves as a gaming chair and a massage chair in one. Everyone can use a small massage after a stressful race or hard day at work to cool down.
The overall design of this chair looks like something that you would see during a game event. Do you know those chic chairs they usually have during game conventions or eSports arenas? They are designed for maximum comfort to help players stay relaxed and focused. This chair has a lumbar cushion and a neck cushion with the Ficmax logo printed on it.
An extra Ficmax logo is printed on the centre of the chair, directly below the headrest cushion. The base of the chair is a bit wide for accommodation,and the colour scheme is a fairly general scheme that we see all the time, slate black and striking blue.
Ficmax has done its best to ensure that these seats are spring loaded and as sustainable as possible. It comes with a metal frame that is highly secured. The frame of this gaming chair is a gas spring powered explosion proof frame that is smooth and does not make any noise when it is in action. The swivel wheels that help to make the frame are very heavy and very stable. The chair generally supports a maximum weight of 300 pounds,and this is in each of the four optimal positions where you can place the chair.
The most important part of a work or gaming chair is that you feel comfortable? We loved the overall comfort of the chair and were impressed by the thickness of the soft padding. At the foot of the chair, there is a very thick layer of filling for your resting area and your legs. This greatly helps reduce the risk of blood clots and helps to promote blood flow to the body. The padded footrest extends to let your feet rest too. Finally, there is the standard loin and headrest pillow cushion that we loved. These are very comfortable to put your head on and will not burden your neck.
There are some extra features of the Ficmax Ergonomic:
Massager included – If you have a USB port, you can switch on the USB powered electrical stimulator built into the seat. This helps reduce stress and make the chair more relaxed for you. The stimulator itself is not too hard, and it is not too soft, we discovered that it was somewhere in the middle range that was optimal for us.
Material with high density – The PU leather on the outside of the chair was very easy to clean and was quite resistant to spilling. We had no problems washing or cleaning any mess. The sponge in the chair also has a high density and a strong permeability, which means that it returns to its original state after use.
Solid frame – A great gaming chair should ensure that it has a high maximum capacity. This chair can easily support up to 300 kg without any problems or pressure on the frame. The frame of the chair is made with a high-quality metallic frame with a very rigid base.
Multifunctional – The chair is rotated 360 degrees by default and has four different optimal resting positions, depending on what you do. Whether you are resting, reading, playing or working, you can change your rest position from 90 degrees to 180 degrees with a fast movement.
Killer warranty – If you have problems with this product within the 30-day purchase window, you can return this product for free. You can have it replaced completely, or you can easily get your money back.
Pros
Sponge material of high density is great for relaxation and helps reduce blood clots for long-term users who sit in a chair all day.
It has a footrest that can be stretched for extra comfort.
The frame of the chair is incredibly strong, stronger than we normally used to look in a chair for this price.
There is a USB electric massage unit included.
There is a great warranty included.
Cons
The footrest has no handle to activate it; you have to pull it out manually.
Editor's words
The overall framing and strength of this gaming chair are also relatively solid, including a frame that is built to support 300 pounds of maximum weight. It is explosion-proof and gas-powered. There is also a nice guarantee that belongs to the chair that we were satisfied with.
The Professional AirGrid backrest by SPACE Seating is a solid, well-constructed chair that looks great in any office. Adjustable arms, tilting tension and height ensure a healthy sitting posture. Soft arm pads and industrial force wheels complete this chair beautifully.
The leather seat coupled with the mesh back delivers a perfect combination of comfort and satisfaction. Around $150 it is an advantageous proposition. At that price, we honestly think that Air Grid is the best chair for this award. And most people agree: the Office Star chair is one of the best-selling office chairs on Amazon.
Let's checking out the features of this gaming office chair below:
QUALITY & MATERIAL
The SPACE Seating Professional AirGrid has used quite a large variety of materials. Although this sounds unorthodox, it is worth noting that each of the materials is of the highest quality. For example, the chair is made of high-quality leather that certainly looks. The armrests are made of high-quality plastic, and the back consists of a mesh that is built with the perfect density, consisting of a wide range of fibers of different lengths and widths. The SPACE Seating Professional AirGrid is one of the best office chairs on the market, let alone within its price range, regarding the actual quality of the materials in the making.
COMFORT
This is where the SPACE Seating Professional AirGrid excels most in its competition. Because the manufacturers refrained from following the "rules" and only built the chair with one or two different materials, you will notice that every part of the chair is made specifically for the part of the body it is sitting on. For example, the mesh used in the back allows you to lean back and sink a little into the chair, while also ensuring excellent temperature control. The padded leather seat ensures that you can stay comfortable all day. Also, the armrests are built so that you have optimal arm support while working at a desk. These all go through to increase your overall level of comfort drastically.
Pros
Leather upholstery on the seat feels wonderfully soft
Good components, firm feel and easy to adjust
Four style options
Cons
The backrest may feel a bit too hard for some
Armrests look a bit thin
Mesh material wears relatively quickly
Editor's words
If you are looking for a comfortable gaming office chair, the SPACE Seating Professional AirGrid Chair is a great option. Although it is an office chair, it also has a great experience as a gaming chair.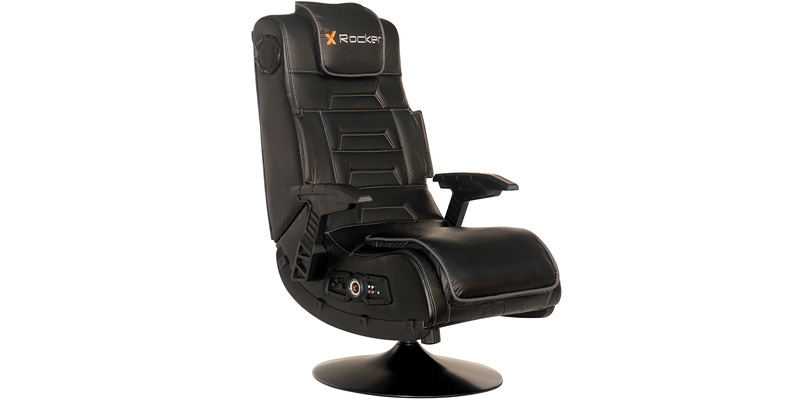 The X Rocker 51396 is one of the best selling game seats. This X Rocker gaming chair can be coupled to multiple seats of the same model at the same time to enhance the gaming experience. It comes with built-in speakers and subwoofers for a more realistic sound immersion.
Also, the X Rocker 51396 Pro Series pedestal 2.1 video game chair has an ergonomic design that gives you comfort for long sessions of playing games, listening to MP3 or just chilling and watching a movie.
Let's take a look at the features of X Rocker 51396
Connects with other X Rocker seats for multi-player games.
Built with two speakers near the headrest and a subwoofer powered by 2.1 Audio Force Modulation Technology (AFM) for better sound reinforcement.
The base of the pedestal lifts you up to basic tilting and swiveling movements for endless comfort.
Gunstock armrests provide support and a great look.
Full of playing games, listening to MP3, watching movies, reading,and resting.
Built-in wireless radio receiver and a wireless transmitter that lets you play MP3 files from any device can control your seat via headphones or RCA outputs Control panel consists of separate controls for volume and bass, and input/output connections for connection.
Pros
Excellent sound quality
Compatible with most media devices
Comfy
Easy to clean
Elegant
Cons
Cushion tends to wear thin after many applications
Lack of reclining function
Frail structural support
Editor's words
If you are wondering whether game seats are worth it, then it is a Yes for this X Rocker. This gaming chair meets up to its price; it allows you to enjoy a blissful entertainment experience with amazing sound and comfort that you have always desired. The built-in sound system, the ergonomic design with comfortable armrests, the tilting mechanism of the pedestal make this chair great for playing games or watching TV.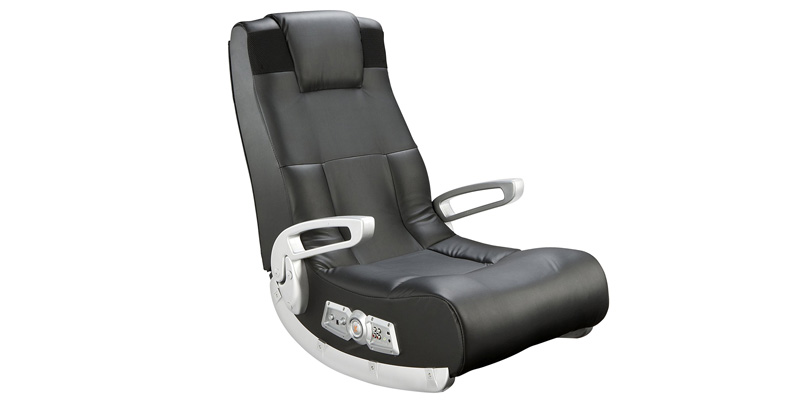 X Rocker 5143601 is marketed by Ace Bayou. This wireless gaming chair brings a fresh experience for the gamer. The latest technology and exclusive features ensure a pleasant gaming time for the gamer.
The X Rocker 5143601 II is a unique chair that can complement any Star Wars themed room coupled with a black leather pattern and gray plastic armrests, which fold up when you do need them. Built-in speakers near the headrest place the sound all around you and the chair design allows you to sit back and relax without having to squat or burden your neck.
Motion pictures and deserves a unique level of focus and awareness, and that is the thing that the X Rocker II wireless gaming chair offers.
Two built-in speakers near the headrest and a subwoofer near the base provide an auditory experience like you've never done before. A side control panel offers complete control over your experience. The ergonomic design of the rocker offers soft cushioning, spacious armrests and full back support. Fully compatible with PlayStation, home theaters, Gameboy, Xbox, and MP3/CD/ DVD.
Here are some features that most game players are interested in:
Affordable and listed on Amazon price range from $140 to $200.
Volume control panels on the side of the chair with headphone in and outs.
With a bass control option, you can boost or soften the bass.
Is equipped with a wireless audio transmitter and an optional headphone output.
The subwoofer is very efficient when compared to other X Rocker Gaming chairs.
Pros
This model is great because it has no base, making it easy to be stored or to be comfortable near the floor.
It is firm and easy to assemble together.
It has a wireless audio system and a headphone connection for listening to audio from the source.
Cons
This chair does not have the comfort-shelf life as a few other chairs on this list.
Not suitable for adults.
It has one color model.
Editor's words
Ergonomic design with full back support gives super comfort and pain relief from the back and top. It has a soft lining for your head and long handle for the armrest. Durable vinyl cover for upholstery offers the soft warmth and long-term warranty. So this is a comfortable and affordable gaming chair you should consider.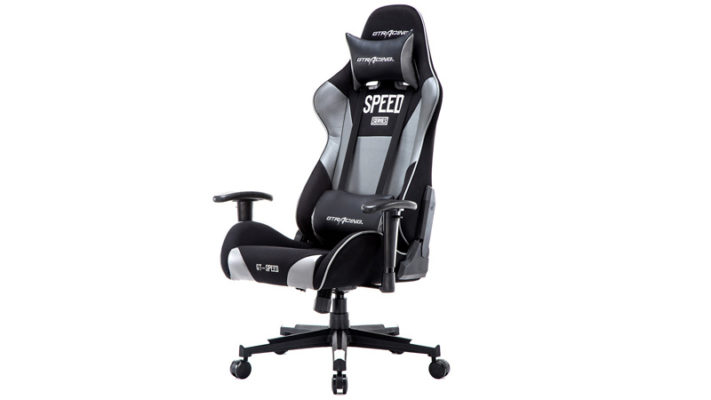 Do you desire to be more productive at work and more comfortable when playing computer games? If so, is your answer, you should get this seat. It has a soft and breathable material so you can sit comfortably without worrying about the accumulation of sweat. In addition, the chair has extra lumbar supports and neck supports. This allows you to be sure of optimal comfort.
You can use the chair for different people, thanks to the 16 "x 19" seating area and the 330-pound weight capacity. Also, you can get it if you need a durable gaming chair because it has a metal frame and a durable PU material. The chair can swing back and forth,and you can adjust the backrest, armrest and seat height so that you can relax comfortably.
This computer gaming chair actually looks like it's in a rally car, in front of your desk, and even the adjustable lever feels like it's taken out of a sports car. It's important to note that it is just over half the price for one of the top brands, provides enough quality to stand on this list.
The nice thing about this chair is that it has a high back seat that offers a lot of comfort,especially for larger people. Despite the high back, it also offers great back support for shorter people. The high back permits the seat to be considerably comfortable for people of different sizes.
This racing seat is a design feature inspired by NASCAR car seat seats. The chair has padded padding that offers great design and comfort. The backrest and the seat have detachable cushions that can be adjusted to the most necessary parts of the chair – that is the loin's area, as well as the headrest.
The segmented filling is guaranteed to last a long time because in the long run it will not be pulled down by gravity and will not wear out quickly. The seat is designed for full gaming support and has comfortable armrests attached to the seat. The fixed armrests remove the tension on your shouldersand arms during game plays.
One of the strangest features of this chair is that it feels much more comfortable without the headrest and lumbar cushions that make things better should make.
Pros
It rolls smoothly.
The seat is easy to assemble.
Lumbar cushions are adjustable.
The seat's cushion and backrest are comfy.
The chair has nice color choices.
Cons
Pillow is too large.
The base makes a strange pop sound as soon as you lean back.
Editor's words
The GTracing High Back Gaming Chair with Footrest features a sleek design for all-day comfort and is a viable purchase for a vast majority of computer gamers. It does not matter if you are a recreational customer or even a professional gamer.
First thing first! The ArozziTorretta racing gaming chair is priced at $300 or thereabouts, so it is not automatically the most affordable product on the market. There are many gaming chairs that are much more expensive, so the Torrettais comfortably in the middle. So what distinguishes it from the competition?
Well, unlike most others, this chair sits on a solid metal frame. This helps to increase stability and also ensures that you are less likely to be damaged if you accidentally overturn it. It offers a deep tilt, 360° rotation and five wheels that work just as well on carpet as on hard floors.
The ArozziTorretta and Torretta XL gaming chairs offer huge updates in solace and design, enabling you to go further into your most loved games and be more gainful at work. The upholstery of ideal fabric gives and keeps you cool, even at upsetting moments, the smooth Arozzi looks have impressed gamers around the world.
It is designed in Sweden with ergonomically friendly and improved features, including height and rotation adjustable armrests, extra lumbar support,and headrest plus a thick, padded seat and backrest. Also, the XL model offers more width in the seat and the backrest for those who prefer extra space.
The smooth profile and the ergonomic design of the Torretta come from the demands of motorsport and are available in a variety of brilliant colors to show you what inspires victory.
At home, in your workplace, wherever you play hard or buckle down, the Torretta and Torretta XL provide you with the most extreme satisfaction and style.
That's not all! The arms are fully adjustable and can be moved inwards, outwards, upwards and downwards to make you as comfortable as possible. The lumbar cushion and the headrest are attached via belts. This makes them easy to move to a better position, and they can also be removed if you choose.
Pros
Functionality and affordability.
It hasan incredible simple construction.
Cons
The seat design is slightly behind its competitors.
Editor's words
Gaming chairs are usually very easy for the eyes, and the Arozzi Torretta is no exception. It comes in a selection of seven different colours, including a distinctive hue of cherry red that looks good in almost every environment. The padding is thick and comfortable, but still sturdy enough to prevent the most common postural problems.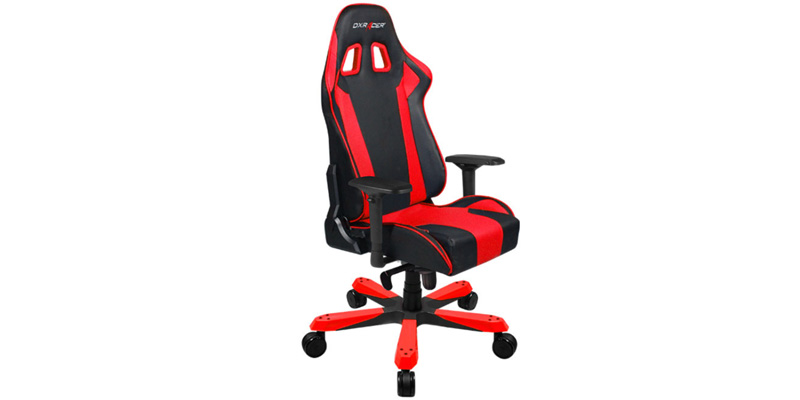 The DXRacer King Series computer gaming chair is a solid and high-quality product. The building materials and attention to detail make it not only purchase but an investment.
In the event that you've been having a troublesome time finding a seat that would fit your bigger than normal size, you'll be satisfied to realize that this arrangement is made just for people who are at or below the 6'2 mark and 275lbs.
Speaking of appearance, the appearance matches the name. It looks like a cross between a throne that only a king would sit in and one of those superlight race cars. The structured fabric is bumpy and leathery, which can serve as frequent use. Some substances and materials have the habit of stretching or even cracking after prolonged use.
Computer gaming chairs usually contain extra cushions for both the head and lower backs that support you for a long time, but the bottom cushion has the habit of moving in the King series, so you may want to try to adjust it regularly or throw aside.
If you have ever felt the frustration of sinking a lot of money into something, then you know what a relief it is to find out that your investment is covered by a guarantee. The King Series seat is backed by a two-year warranty on parts and a lifetime warranty on the frame itself, so your investment will not be wasted if something breaks down, and that's a big IF.
Pros
Suitable for big people
Solid and high-quality materials
Maximum warranty
Cons
Too heavy weight
May be unpleasant to sit for the first few minutes
The lower lumbar cushion can be uncomfortable for some
Editor's words
If you've ever tried to find a best budget gaming chair for someone who is more huskily built, you know what a challenge it can be. There are several well-known manufacturers of game chairs, but not all of them are suitable for people who are slightly above average or for those of us who only scale a little bit more than we should do. Luckily for people like us, DXRacer has our back.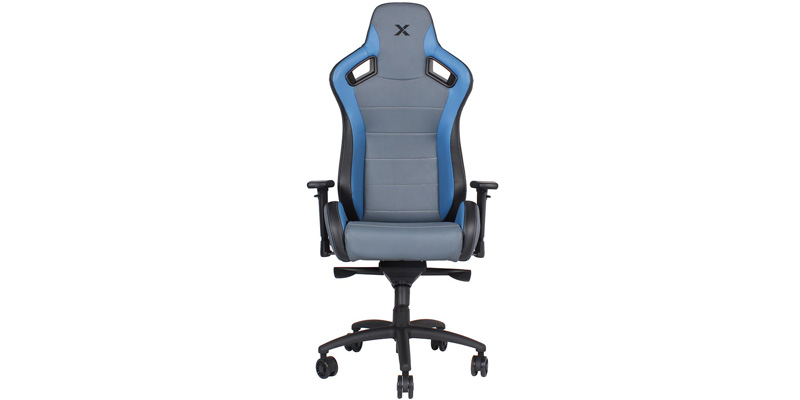 RapidX is a company that builds its chairs from inspiration and wants to ensure that the daily gamer gets high-quality gaming seats at an affordable price. The Carbon Line Blue on Grey Sleek Design Gaming Chair for Big and Tall by RapidX is built for taller people in mind, as you can see from the sleek design that gives the chair an additional high neck. The neck rest on this chair is unrivalled in the market of the gaming chairs. The base is also extremely wide and also has some extra filling that rises over the sides.
Inspired by the fit and feel of a luxury sports car. Characteristic coating of carbon fiber on the supports and backrest. Backrest adjusts from 85-155 degrees locking mechanism with 5-position tilt seat Wider, sturdier seat, able to support up to 350 pounds.
As you relax in your seat, you feel the help of the thick polyurethane inside, which mitigates the pressure on your back, neck, and shoulders by encouraging a solid stance.The orthopaedic and ergonomic design promotes productivity when you sit for a long time, whether you work or gamble. With an adjustable backrest of 85-155 ° and a tilting seat locked at five positions, the Carbon Line is also suitable for rest. This wider, firmer seat can hold up to 350 pounds, while the adjustable armrests and backrest can be adjusted to your needs.
Pros
Enhances gamers' productivity
Unrivalled neck rest
Cool Support
Cons
Not suitable for short people
Restricted adjustable backrest
Editor's words
Modelled on the comfortable feel of a luxury sports car, the Carbon Line encourages you to pamper yourself with work and play. The stylish, yet aggressive carbon fibre material is threaded onto the supports and the back of the chair. With five accents finishing, which complements the PVC leather and the carbon fiber compositions, the design certainly gives a cool look to your office or gaming environment.
Our Conclusion
As gamers, we focus too much on our gaming computers and graphics cards, processors, monitors and cases that we often forget the one part that is probably the most important of all, which is the gaming chair.
Nowadays, it is for all gamers with a high-quality computer chair had never been as important as all the studies had done with linking back problems to a chair for a long time. Fortunately, many chairs havebeen specially built for gamers.
The truth is there are no rules that say you have to choose a chair that is dedicated to gamers. Indeed, the best gaming seats are not models of gaming-oriented companies, but instead ergonomic top-quality office chairs designed by well-known brands.